Handle Productions Oy delivers critically acclaimed films to international audiences and offers production expertise and services for prominent independent productions. The company's story-first approach has led to award winning documentary, children's content and feature film collaborations. The CEO of Handle Productions is the award-winning producer and director Hanna Hemilä.
Hanna Hemilä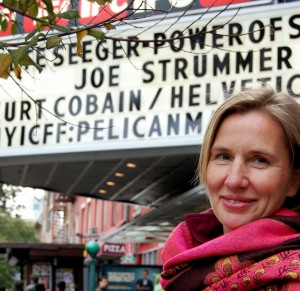 Finnish film producer and director Hanna Hemila began producing films after working a number of years in international banking. Over two decades later, Hemila's career spans everything from the winner of the International Critics' Award at the 64th Cannes Film Festival Le Havre (productrice exécutive) to the universally acclaimed and multi-award winning family feature film Pelicanman (Berlinale/Kinderfilmfest 2005), and several documentaries, animation films and multinational co-productions.
Hemila made her directorial debut with the Finnish-American documentary feature on Ingrid Bergman's butler, Paavo, a Life in Five Courses (opening film for the 2012 Eurodok film festival in Oslo, Norway). Originally drawn to filmmaking by her desire to create something meaningful for children to watch, Hemila utilized her project financing experience and M.Sc. degree in finance (Hanken) to produce her first animation series, the internationally acclaimed and awarded Urpo & Turpo.
Hemila finished producing, co-writing and co-directing Moomins on the Riviera, an animated feature film based on the iconic Moomin characters by Tove Jansson in 2014. The film premiered in London Film Festival and was nominated for the best animation film in Shanghai International Film Festival in 2015. Hemila also produced a Scandinavian holiday countdown for children, a 24-episode à 15 min television series Tommy's Supersofa, which aired on Svenska YLE in December 2013 and aired on MTV3 and NRK in 2015.
Hemila's other notable films include Bad Family, a Finnish feature film directed by Aleksi Salmenperä (Berlinale/Panorama 2010); Wolf (Varg), a Swedish-Finnish-Norwegian feature starring Peter Stormare (2008); Guarded Secrets, a Hungarian-Austrian-Finnish feature (2004) and the period movie Gold Fever in Lapland (1999).
Hemila's animation productions include the series Tootletubs & Jyro (2001) and Urpo & Turpo (1996). Her documentaries include Tove and Tooti in Europe (2004) and Haru, the Island of the Solitary (1998) about the famous author and creator of the Moomin comics, Tove Jansson, and her partner Tuulikki Pietilä.
Hanna Hemila received the Finnish State's Art Award in 2001 and was nominated in 2005 for Best Film in the national Oscars (Jussi-award) and in 2004 for Film-Finlandia award.
Beata Harju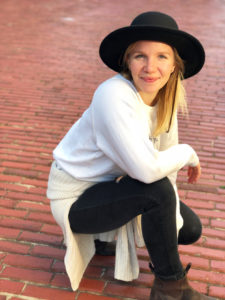 Beata Harju is the Creative Director for Handle Productions. She is a filmmaker and actor, with her credits ranging from co-writing and voice acting in the animated feature film "Moomins on the Riviera," writing the episode "Enter the Woodman" for Cartoon Network's Mega Man -series, writing, producing and performing in the comedy short "Catcalling Virgin," assistant directing the TV show "Tommy's Supersofa" for YLE, and acting in or crewing for numerous other film and TV projects in Finland and the United States. She had her National Theatre acting debut as Honey in "Who's Afraid of Virginia Woolf" and Jane in "August: Osage County" at Svenska Teatern, the National Swedish Theatre of Finland in 2012.
Beata received her MFA in screenwriting from the American Film Institute Conservatory in Los Angeles in 2019. She has a Bachelor of Arts degree in film, theatre and social sciences from Sarah Lawrence College, New York, and has also studied business at Aalto University School of Business in Helsinki, music at the Pop & Jazz Conservatory of Helsinki and improv comedy at the Groundlings, the Upright Citizens Brigade Theatre and the Magnet Theatre. She is a graduate of the Professional Performing Arts School in New York.
Outi Gaib

Outi Gaib is the long-term Office Manager and the all-around person who makes sure things run smoothly for all of Handle Productions' projects. Outi got into filmmaking via banking, and has been working for the company since the filming of Pelicanman in 2004.
Company
The hand-drawn animated feature, Moomins on the Riviera premiered in London Film Festival on October 11th, 2014 and has already been sold to over 50 countries. The Scandinavian holiday countdown for children, Tommy's Supersofa (2013) has aired on Svenska YLE, MTV3 and on NRK.  In 2010 the company completed the highly acclaimed documentary feature about Ingrid Bergman's former butler, Paavo, a Life in Five Courses, which opened the Eurodoc filmfestival in Oslo, Norway in 2012.
Handle Productions' most distinguished collaborations include the Finnish-French feature Le Havre by Aki Kaurismäki (premiered at the 64th Cannes Film Festival in Compétition, 2011), Hemilä being the "productrice exécutive" and Bad Family by Aleksi Salmenperä (premiered at Berlinale/Panorama, 2010), Hemilä being the line producer.
Handle Productions manages the film rights of Lumifilm Oy, which was founded by Hanna Hemilä and Liisa Helminen in 1993. Lumifilm's films include critically acclaimed and awarded features, shorts and documentaries.